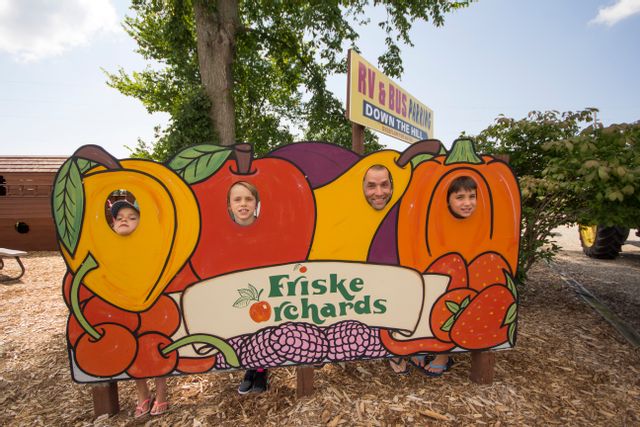 Description
IT JUST KEEPS GETTING BETTER! Fall on the farm is simply extraordinary! Crisp, cool air, vibrant colors and the aroma of hot, fresh apple cider donuts all invite you to take a breath, relax and take in a beautiful Northern Michigan day with family and friends. This year our Apple Fest is going above (literally) and beyond anything we have done before!
Join us inside our brand new EVENT PAVILION where you will have the opportunity to watch apple cider donuts being made fresh right in front of you!  
You can also enjoy:
•Homemade Chili
•Caramel Apples
•Fresh-pressed hot and cold Cider
•Sparkling Apple and Cherry Cider
•Apple Cider Slushies
•Caramel Apples
•Mini Caramel Apple Pies
•Apple Crisp
•German Apple Cake
•Caramel Apple Cookies
•Apple Fritters and
•Tons of fresh Friske Apples picked right at our orchard!
FOOD TRUCKS:
•The Digs
•Pigs Eatin' Ribs
FAMILY FUN ATTRACTIONS:
•Live Concert – Jim Hawley Band
•Pony Rides
•Huge Petting Zoo
•Inflatables
•NEW! NEW! NEW!
**45′ (4 story) Screamer Slide
**Giant Pumpkin(s) Display from Cecil Weston
**Pumpkin Carving with Daniel Duncan
**Pumpkin Smashing
**Pumpkin Painting/Decorating
•Friske Flyer Kid's Zip Line
•MegaPillow
•Giant Apple Slingshot
•Orchard Wagon Rides
•U-Pick Apples
•Homegrown Pumpkins
•Giant Yard Games
•15,000 sq. ft playground
INSIDE THE MARKET 
•Tons of scratch-made baked goodies from our bakery including Apple Cider Donuts, Pumpkin Spice Donuts, Apple Pies of all kinds, Scones, Turnovers, Muffins, Coffee Cake, Cookies and so much more!
•Seasonal Housemade Quiche 
•Genuine U.P. Pasties
•Friske Handcrafted Woodfired Pizza
•Fresh-made Sandwiches, Wraps & Salads along with a wide variety of specialty beverages in our Grab 'n Go
•Specialty food & gift shopping in our general store and gift shop!
Friske Farm Market
10743 US-31, Ellsworth, MI 49729
10:00 AM EDT
to 5:00 PM EDT
Private:No
RSVP Required:No
Accept Registration Online:No