Applefest at Friske Orchards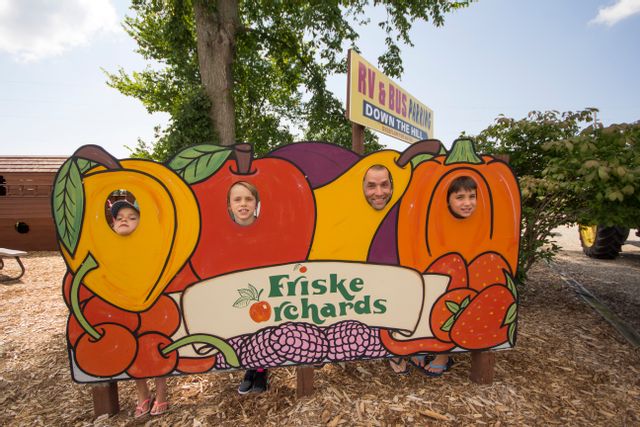 Description
Admission is FREE *some activities have a fee
LIVE CONCERT with Traverse City's Jim Hawley Band 12-4pm – FREE admission
•PONY RIDES – *11am-3pm
•HUGE PETTING ZOO – *11am-3pm
•NEW for 2021! BUNGEE RUN – *11am-3pm
•FACE PAINTING – *11am-3pm 
•WAGON RIDES – *10am-6pm
•JUMPING PILLOW – *10am-6pm
•GIANT APPLE SLINGSHOT – *10am-6pm
UNDER THE BIG OUTDOOR TENT (OPENS 10am)
•All Beef Hot Dogs & Chili Dogs
•Famous Chili
•Apple Cider Donuts – (hot from the fryer)
•Apple Fritters
•Mini Caramel Apple Pies
•Caramel Apples
•Caramel Apple Cookies
•German Apple Cake
•Hot & Cold Apple Cider
•Sparkling Apple & Cherry Cider
•Apple Cider Slushies
Huge displays of our fresh-picked apples and fresh-pressed cider straight from our orchard!
INSIDE THE MARKET
FRISKE MARKET EATS
•BREAKFAST –  served 8-11:30am: Breakfast Pasties, House-Made Quiche, Smoothies & a huge selection of scratch-made pastries 
LUNCH – served 11:30am-3:30pm:  House-Smoked Pulled Pork, Michigan-Made Pasties, Beef Hot Dogs, and our brand new Wood-Fired Pizza (pizza available until the market closes)!
TONS of scratch-made goodies in our bakery:  Apple Cider donuts, Pumpkin Spice donuts, Apple Fritters, Apple Pies of all kinds, Caramel Apple Cookies, German Apple Cake, plus Scones, Turnovers, Cookies and so much more!
Our GRAB 'n GO cooler will be stocked with fresh-made sandwiches, salads, wraps, croissants, and more!
U.S. 31, Ellsworth
10743 U.S. 31, Ellsworth, MI 49729
10:00 AM EDT
to 6:00 PM EDT
Private:No
RSVP Required:No